This article is about the Robin Williams post life book. For other uses, see "I Won't be doing that again!" By O.J. Simpson.
A post life memoirs of the late comedian and actor Robin Williams. The contents of this book were dictated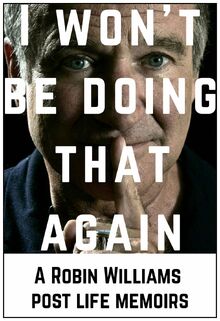 by the acclaimed medium Ivan Teller who hosted a YouTube channel in order to contact the deceased comedian.
The book is wholly unfunny as Mr. Williams insists that he doesn't want to "Dwell on the past and his mistakes." despite the fact the book title eludes to his past mistakes.
Oddly Mr. Williams also insists that he no longer goes by his living name but has adopted another, however he doesn't elaborate on his new post life name, simply "We don't know!"
Chapters
Edit
Why I'm not being funny anymore
What to wear to a funeral when your being buried
Should you include a laugh track?
What's the deal with Seinfeld?
Boxers or briefs
Flubber: My best film
Another rant about Seinfeld
Why no Flubber 2: The Search For More Flubber
Lucy in the sky with...
One last joke.
Lucy in the Sky with...
Edit
Interestingly the comedian formally known as Robin Williams has an extensive thank you page which oddly crosses into the realm of another channeler's session, one miss Jennifer Whisper .
He thanks the following celebrities.
Cole Porter
Nat King Cole
Victor Herbert-Herbert
Marilyn Monroe
Judy Garland
Erving Berlin
Fred Estaire
George Gershwin
Elvis Presley
Jimmy Hendrix
Walt Disney
The Duke, John Wayne
Hank Williams
Patsy Clyne
Closing chapter
Edit
The book closes with one final joke; suspiciously added to the commentary and oddly ambiguous, possibly in an attempt to evade the tight security in the afterlife widely known for its lack of humour and firm prosecution and imprisonment of joke makers.
"Stay away from those Victory... Victoria Secret Models."
Commonly misunderstood the stutter: "Victory... Victoria" component is yet another layer of disguise that the comedian formerly known as Robin Williams uses to evade detection.
Speculations of authenticity
Edit
It has been widely suggested that the final draft of this Post Autobiography, as dictated by Ivan Teller, is the work of a self pleasing fraudster with low to mid grade porn addiction and a penchant for public nudity.
Ivan Teller has recently started another public channel, this time on PornTube.
References
Edit
https://soundcloud.com/unbelievablepodcast/episode-161-channeling-celebrities