Overview
Edit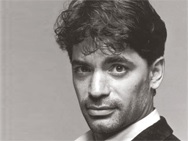 John 'Johnny T' Sollitto is an American stand-up comedian, rickshaw driver, coincidence theorist and Youtuber from Red Hook, New York. Johnny has made guest appearances on the Unbelievable Podcast on numerous occasions. He is known for his crude and oftentimes un-PC humor, as well as his popular Youtube channel that hosts clips from his comedy performances as well as videos that deal with conspiratorial and political topics[1]. His main video series is named Coincidence or Conspiracy Theatre and his most popular video has accumulated over 313,000 views. You can find Johnny T on the streets of New York driving people around with his rickshaw on many nights. He is easily recognizable from his Spongebob t-shirt, propeller cap and the sign on the back of his rickshaw that proclaims "Lesbians on board (please!)".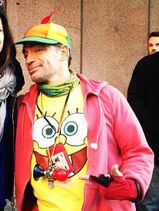 2013 Banksy Mural Incident
Edit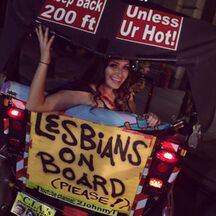 Johnny gained notoriety in 2013 when he painted the words "INSIDE JOB" and an arrow in pink spray paint pointing at a 9/11 themed mural by the artist Banksy. The stunt was reported in the NY Post[2].
Podcast Appearances
Edit
Johnny T made his first appearance on the Unbelievable Podcast on episode one where he debated then-co-host Leo Martin about the true nature of the 9/11 terror attacks.
Johnny's last appearance as of this writing was on episode 124 when he returned to discuss his theory of the death of Bob Marley.
References
Edit